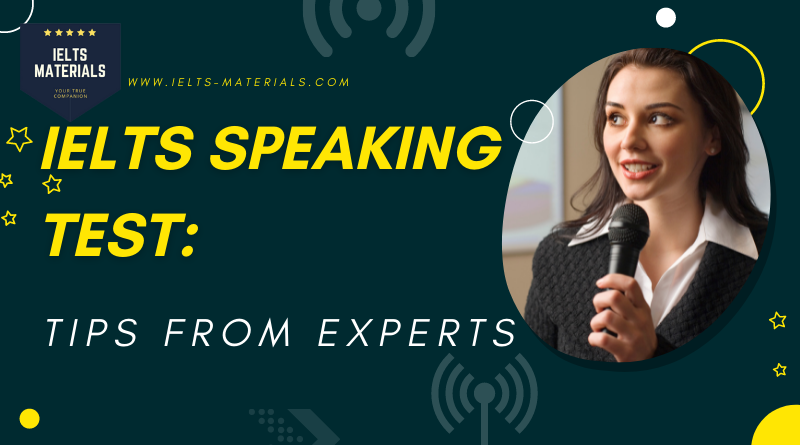 Generally, the IELTS speaking test is about 10 -15 minutes between the candidate and the examiner. The speaking test can be conducted before the exam or after the exam.
You may be concerned about taking the IELTS Speaking test. Still, with these ten recommendations from our IELTS Experts and plenty of practice, you'll be well on your way to gaining confidence and achieving the IELTS band score you desire.
The face-to-face Speaking test has three components for both paper-based and computer-delivered IELTS. You will be better prepared for the Speaking test if you understand what happens in these three sections.
Part 1
Part 1 will consist of a 4- to 5-minute interview about yourself with an IELTS examiner. The following are examples of possible topics: Work, Family, Home, life Personal interests
Part 2
You will be handed a card with a topic in Part 2 of the Speaking test. You will have one minute to take notes on the topic and prepare your response with a pencil and paper before speaking for two minutes on the issue.
Part 3
In Part 3, you'll discuss the topic from Part 2 with an IELTS examiner and go over it in further detail. Part 3 should take no more than 4 to 5 minutes to complete.
Don't memorise answers
It's not a good idea to memorize answers, especially in Part 1. Memorized language does not provide the examiner with an accurate assessment of your English language abilities. Your final band score may be affected if the examiner detects that you have memorized your answers.
Make use of a wide variety of grammatical constructs.
When IELTS examiners evaluate your speaking abilities, they look at the following criteria:
Coherence and fluency
Lexical database
Range and precision of grammatical usage
Pronunciation
Use a range of grammatical structures and complicated and simple sentences to clarify what you want to communicate. Know your flaws and practice speaking English with friends or on film to see if you can see them. If you hear an error, make careful to correct yourself. It's critical to practice speaking in the past, present, and future tenses because you'll be graded on your ability to use diverse grammatical structures appropriately.
Don't be concerned about your accent
The examiner for the IELTS speaking test can recognize a wide range of accents and will be able to understand what you say. If you can communicate effectively, you have nothing to be concerned about. Because English is a stress-timed language, be aware of any sounds you have trouble with and make sure you use stress and intonation. Friends will let you know if they don't understand you if you practice with them.
Pausing while speaking
It's not a bad idea to pause to think about what to say. It's something we all do when we're trying to think of an answer to a question. To give yourself time to consider during the Speaking test, use phrases like:
Let me think about that for a minute
It is an interesting question
That's a difficult question, but I'll try and answer it
Let me see
Try to avoid using fillers
When speaking, avoid utilizing superfluous words and talk confidently. We often use fillers when we don't know what to say; nevertheless, this shows the examiner that you lack the necessary vocabulary or concepts; thus, it's critical to avoid them and instead use the phrases.
These fillers are like, well, yeah, umm, you know.
Ask the question again if you need to
If you need something clarified, don't be afraid to ask. You will not be penalized for approaching the examiner.
Extend your speech
Make an effort to speak at least as much as the examiner. If a question is asked in a single sentence, react with two or more sentences. And never, ever, ever give short, uncommunicative responses:
Examiner: Do you participate in any sports?
You: No, I'm not a sports fan.
Please don't leave it at that! I'm not a particularly active person, and I wouldn't say I liked P.E. in school. Instead, I prefer to engage in academic pursuits. Chess, for instance, is a game that I enjoy.

Preparation Tips for IELTS General Training Writing | GT writing 2022
FAQ