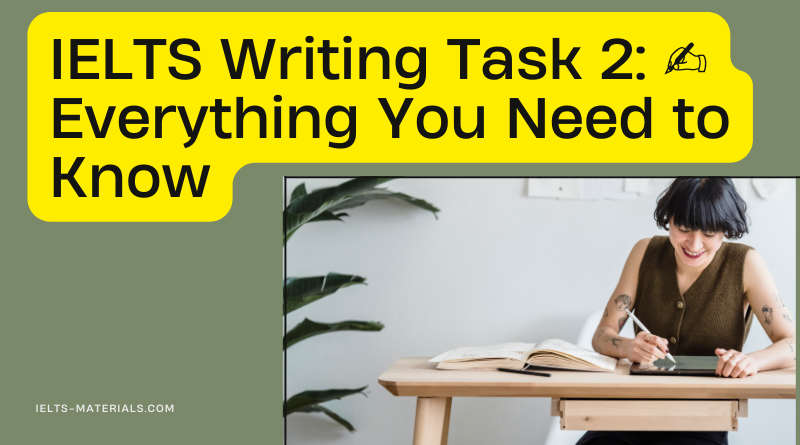 Introduction: 
Writing task 2 carries more band scores as compared to Task 1. Writing task is the same for both Academic and General (GT) IELTS. At least 250 words are required to write task 2. Candidates need to write a response on different topics. The most common topics are environment, education, pollution, children, parents, foreign country or language, etc.
Types of task 2
There are different essays in the IELTS test.
Agree or disagree
Discussion Compare and contrast
Problems, reasons, solutions
Causes and effects
Miscellaneous
Structure of an essay:
Good structure always helps you get a high band score. The structure is the backbone of an essay, without structure essay would be messy.
Four paragraphs are at least required to write an essay. An essay can be 4 or 5 paragraphs. We recommend that 4 paragraphs easy is good.
How to write an essay:
Before you write, read the lines Twice and make sure you understand the demand of an easy. Once you are aware of what the essay is asking, then you can build points in your mind.
Introduction:
Always write one general line about the essay topic. After that, write about the essay topic. If an essay is asking about your opinion, then you sound to mention your opinion.
Body paragraph 1, always use the good phrase to start a paragraph. We will provide you with all the good phrases in another blog. In this body paragraph, write two ideas with examples and close the paragraph.
Body paragraph 2, Start with the good phrase. In this paragraph, write at least two ideas with examples.
In conclusion, in this paragraph, write the overall topic that is asked in the essay question, and here you should not write a new idea. If easy question asking your opinion, then you should write your opinion in the conclusion part.
After writing the essay, read your essay so that you can remove any mistakes such as punctuation errors, spelling mistakes, sentence formation mistakes. In this way, you can get a higher band score. Make sure you write at least 250 words.